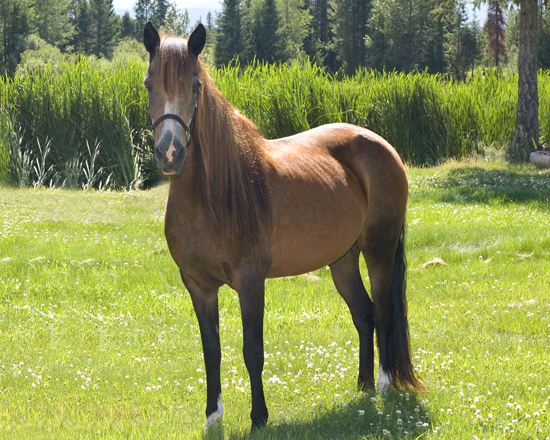 Name:  Coral's Elysia de Vez (a.k.a. Elysia)

Sire:  Coral LaCE
Dam:  Elysia de Vez
PFHA Registration:  #11,680
Sex:  Mare
DOB:  March 20th, 1987
Color:  Buckskin
Height: 14.1 hands
Markings: Blaze, right fore sock, left hind sock, dorsal stripe, black points
Training: Experienced
Rider Level: Intermediate
Status: SOLD

Breeder:
Barbara Preiss
La Caballeriza Paso Finos (FL)
Trainer:
Sunhaven Paso Finos (FL)
Breeding History:
1992 – Bay Colt
1994 – Bay Filly
1996 – Bay Colt
1999 – Buckskin Colt
2002 – Bay Colt
2003 – Bay Colt
– Pedigree –

 

Coral's Elysia de Vez

 

Coral LaCE

 

Canario II

 

Canario I

 

Dinamita

 

Drama

 

Cabuyero

 Pluma

 

Elysia de Vez

 

Dulce Kalua

 

Triunto

 

Afortunada T

 Dulcinea

 

Vellachas que Tal

 

Guamanita Reina T
General Information…
If you've ever dreamed about finding a very exquisite and naturally gaited Paso Fino with a lot of heart that can perform almost every "thought" of its rider without the need of most cues, then you'd probably love "Elysia" as much as I do.
About Elysia…

Even though Elysia was bred from top bloodlines, her great beauty, intelligence and gentleness have helped make her a treasured heirloom for our family.
Elysia's a gentle, willing mare that almost anyone would enjoy riding.  Her ability to perceive your thoughts is amazing.  She is the most intelligent horse that I've ever worked with.  She's almost telepathic to ride and rarely needs cues once she's established a relationship with her rider.  This is the Paso Fino that we put all beginner riders or children on that want to ride.
Ever since coming to live with our family, she's been a trusted companion for our children to ride.  She has carried them as a lesson horse, on fun day events and extensively through the forests and on trails.  Elysia is very gentle, but she also makes an excellent and exciting companion for an experienced rider, too.
Elysia has one of the most accurate gaits that I've ever ridden.  She's beautifully and consistently gaited under any rider and also in any type of terrain…which is rare, especially in the FL trails with deep sand!  Her strength and stamina help make her a very capable trail companion to ride.  Even though she's totally content being in any position (lead, front, or middle it makes no difference) within any size group of trail horses, she excels as a lead horse.  Her confidence and experience have lead many horses through very difficult trail situations including passing through lakes and rivers.  She's so gentle that she can be ridden bareback in a halter, but I believe in Elysia so much that she could probably even be ridden bareback with no head gear.
Elysia leads respectfully, ties, cross-ties, bathes, grooms (sprays included!), trims, stands quietly for the farrier, loads/trailers like a dream, is easy to catch, lowers her head to halter, easy to deworm, and is quiet to tack.   She's currently on a rotation deworming schedule and is kept current on vaccinations, negative coggins, teeth floating and farrier work.
Elysia resides with our family in Montana, but has also lived with us at our past ranches in Michigan and Florida, too.   She's a very healthy sound mare with a ton heart and elegance.  She's a treasure to us as are her two sons, Storm Dancer, and Sundance Kid, by the legendary largo stallion, Sundancer Mako…

About Elysia's Sire…
Coral LaCE, pictured below, is legendary!  He was a 14 hand beautiful mahogany bay stallion that was imported into the US in 1968 by George LaHood. Coral was honored with the highly esteemed "Horse of Horses" title in Columbian where he was bred/raised.  After being imported, his later accomplishment included earning a Grand National Championship in Performance.  He also produced many National Champions.  The Paso Fino Horse Association honored him twice as the #1 Top Producing Sire in the Nation and a "Top 10 Producing Sire" an amazing thirteen times!  His offspring have received National titles in Pleasure, Performance, Versatility, Driving and Largo Races, as well as numerous State and Regional titles.  Coral LaCE was also inducted into the Paso Fino Horse Association's Hall of Fame.  I believe his greatest honor is probably the fact that owners from all over the world are still dedicated to preserving the Coral LaCE legacy for it's gentle nature, natural gait, versatility and great beauty.

About Elysia's Dam…
Elysia de Vez, pictured below, is a prized daughter of a beautiful line bred Truinfo son and Batalla grandson named Dulce Kaluha.  Truinfo was the sire of 2x Grand National Champion, Frio Viento.  Batalla was one of the legendary son's of the Puerto Rican foundation sire, Dulce Sueno.  Elysia's dam was also the grand daughter of the legendary stallion, Hilachas.  Not only was Hilachas honored as the PFHA's #1 Top Producing Sire for 1974, 1975 and 1976, but he remained a Top 10 Producing Sire from 1974-1984.  Hilachas was best known for producing elegant conformation and movement, fast smooth gait, beautiful heads and intelligence.