– Sold –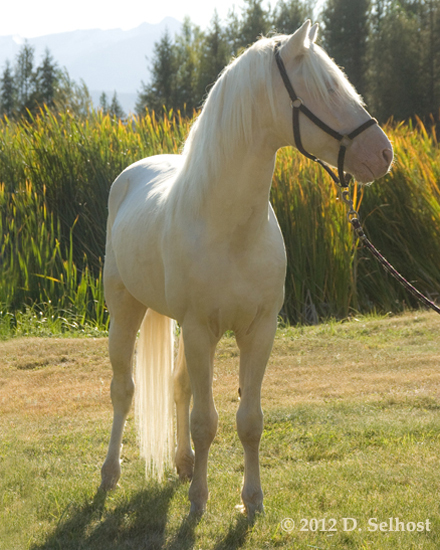 Name:  Batalla de La Luz
Sire:  Corito de Vez (Pure Puerto Rican)
Dam:  Novita de Vez (3/4 Puerto Rican)
PFHA Registration:  #57,692
Sex:  Stallion
DOB:  April 17th, 2002
Color:  Cremello
Height:  13.3 hands
Markings:  none

Breeders:
Tony & Debbie Selhost
Step-in-Time Paso Finos  |  Condon, MT
406-210-5810
Trainer:
La Caballeriza Paso Finos (FL)
– Pedigree –

 Batalla de La Luz

 Corito de Vez (PPR)

 Corito

 Cori (Dulce Sueno)

 Maria Luisa (Batalla)

 Miel

 Triunfo (Batalla)

 Encata

 Novita de Vez (3/4 PR)

 Coral's Viajero de Vez

 Coral LaCE

 La Luz del Sol B/R 

 Novita

 Cori (Dulce Sueno)

 Maria Luisa (Batalla)
General Information…
Being raised by a family of eight, Frankie's sweet temperament is best suited for a lifestyle filled with love and lots of attention.
About Batalla de La Luz (aka Frankie)
Frankie received his initial training under the supervision of Barb Preiss, at the La Caballeriza Paso Fino Farm, in Ocala, Florida, when he was younger.  Afterward, he was ridden lightly and then pastured for the past few years with three of our other stallions where he continues to live a very happy and healthy life.  Being 7/8th pure Puerto Rican, Frankie's gait is flawlessly smooth, accurate, and highly inheritable as is his sweet temper.  As with any cremello, it is "impossible" for Frankie to produce anything except dilute colored offspring, like palominos, buckskins, and smokey blacks.  The prepotency of Frankie's legendary bloodlines for silky, smooth gait and gentle temper combined with his ability to produce beautifully colored offspring make him a highly desirable and influential stallion.
About Frankie's Sire
Standing 15 hands, Corito de Vez is a full Puerto Rican palomino stallion of excellent disposition, conformation, and naturally smooth gait. Corito is line-bred Dulce Sueno, the legendary Puerto Rican foundation sire, through Cori and line-bred Batalla.  Today, Dulce Sueno is considered to be the most influential stallion in the history of the Paso Fino breed.
About Frankie's Dam
Beautifully refined and naturally gaited, Novita de Vez stands 14 hands and is a lovely 3/4 Puerto Rican palomino mare.  Like Corito, Novita is also line-bred Dulce Sueno, but just on her maternal side, through Batalla (via La Cream, and line-bred El Indio, the sire of Senor Joven B/R's), Cori (grandson of Dulce Sueno), Caramelo, and Guamani.  Novita's paternal lines boast of the Legendary Coral LaCE, her grandsire, through Coral's Viajero de Vez (a full brother to the largo legend, Sundancer Mako).  As most already know, Coral LaCE is known for producing offspring of great beauty, gentle temper, intelligence, and smooth range of gait.  Bred by  Alberto Uribe Sierra, Coral LaCE was born in 1964, and was later imported by George LaHood and then purchased by Betty Klein and then lastly, Barb Preiss.  In 1980, Coral was the #1 Top Ten Sire in the breed, but he was on the Top Ten Sire's list thirteen times during his life, received the high honor of being conducted into the Paso Fino Hall of Fame, and produced tremendous offspring.