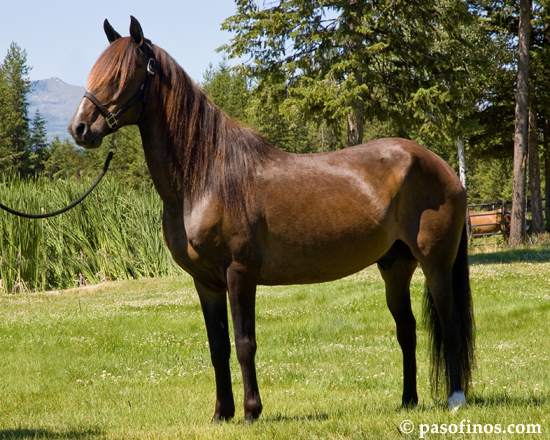 Name: Alegre Kofresi – SOLD
Sire: Alegria de Blanca (Coral LaCE)
Dam: Kira de Bucanero (PPR)

Registered Name:  Alegre Kofresi
PFHA Registration:  #20,515
Sex:  Gelding
DOB:  May 19, 1991
Color:  Bay
Height:  14.3 hands
Markings:  Star, strip, snip, left hind sock, black points
Training: Experienced
Rider Level: Intermediate to Experienced
Status:  SOLD
For more information, please inquire. 
Current Owners:
Tony & Debbie Selhost  |  Step-in-Time Paso Finos  |  https://pasofinos.com
Status: For Sale
Breeder:
JoAne Watson-Parkin  |  Watson Landing Paso Finos (FL)
Trainer:
Joe Borges
 

– Pedigree –

  Alegre Kofresi

  Alegria de Blanca

  Coral LaCE

  Canario II

  Dama

  Blanca FN (PPR)

  Fantasia JR

  Greeting

  Kira de Bucanero (PPR)

  Bucanero de Kofresi

  Kofresi

  La Glori

  Tona La Negra

  Dilema

  Tonita
General Information…
If you've ever dreamed about finding an exquisite Paso Fino with heart, agility, stamina, and ability to travel at any range of speed with the smoothest, natural gait ever, then you'd probably love "Kofresi" as much as we do.
About Alegre Kofresi
We're proud to say that Kofresi has been with our family since he was 7 years old.  We have enjoyed riding Kofresi in various regions of the nation, including the mountains of Montana, the sandy trailheads in Ocala, Fl, and the beautiful forests of upper Michigan.  Kofresi has always exhibited one of the smoothest and most accurate natural gaits that we've ever ridden in any terrain, including the treacherous mountains trails to difficult sandy hills.  Together with a beautifully consistent gait under any rider and in any type of terrain, Kofresi's strength and stamina help make him a very capable and exciting trail companion.  Even though he's totally content being in any position (lead, front, or middle it makes no difference) within any size group of trail horses, Kofresi excels as a lead horse.  His confidence and experience have guided many riders and horses through very difficult trail, lake/river, and deep mud situations.  Being somewhat of a spirited horse, Kofresi is best suited for experienced riders, but he's safely carried intermediate riders and children many times.  Kofresi can be been ridden english and western.
About Kofresi's sire
A beautiful bay stallion with amber eyes, Alegra de Blanca was sired by the legendary Coral LaCE and Blanca FN, a pure Puerto Rican mare.  Alegria was bred, owned, and ridden to numerous championships by the late Betty Klein.  More specifically, Alegria was a National American Paso Fino Performance Stallion, Reserve National Performance Stallion, 1979 Reserve Grand National Performance Champion, 1980 National Amateur Owner Performance Champion, 1981 National Performance Champion, and 1981 Third Grand National Performance.  He also received his T.O.P. and Legion of Merit.  In additions to his many accomplishments, Alegria also sired many versatile and naturally gaited offspring, like Alegre Kofresi.
About Kofresi's dam
Kira de Bucanero was an amazing pure Puerto Rican Paso Fino mare.  Kira's inherent prepotency for naturally smooth gait and ability to travel flawlessly at any speed was the foundation for our breeding program.  Her dam, Tona la Negra, was a full sister to the legendary Alicante, another famous stallion owned by Betty Klein.  Kira's grandsire was the world renowned, Puerto Rican stallion, Kofresi.  He was Champion Bella Forma and Grand Champion Paso Fino 1961, National Champion Paso Fino 1973, and his impact on the Paso Fino breed has been extraordinary.  Kofresi was heavily line-bred…his grandfather on both sides, and his great grandfather and great-great grandfather was the Puerto Rican phenomenon, Dulce Sueno.